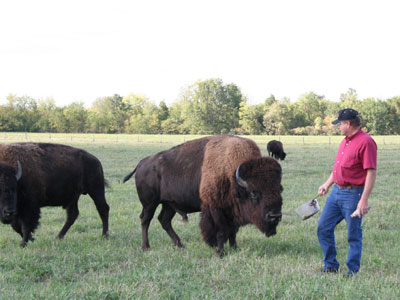 Check the Blog for Updates
David, tending to cattle and bison on the 8,000-acre Amsterdam, Mo. ranch he managed.
For David C. Cook, 56, of Amsterdam, Mo., November 19, 2008 was no different from any other day.
As a full-time cattle rancher, David spent the early morning hours working on an 8,000-acre cattle ranch, managing the land and monitoring nearly 1,000 head of cattle.
The labor-intensive job kept him busy, day in and day out, all year round. Despite working a grueling full-time job, David spent his afternoons and evenings working for the Kansas City Power & Light power plant.
On November 18, David left work at the power plant around 10:30 p.m. It would be the last reliable sighting of David, police say, before his mysterious disappearance.
The next morning, cops believe that David woke up and began his day. According to the Missouri Highway Patrol Division of Drug & Crime Control, David met with an employee of his around 7:00 a.m.
The ranch hand, who police are not considering a completely reliable source, told detectives that he and David checked on a herd of cattle just a few miles from David's home.
After attending to the cattle, David supposedly drove home on a four-wheeler.
Later that day, on November 19, David missed a meeting that was scheduled with several of his business partners.
Equally unsettling, David did not show for work at the power plant, either. Family and friends thought this was extremely out of character for David, and they were immediately concerned.
A search ensued the very next day, November 20; when David didn't appear, his family reported him missing.
According to police, David's house wasn't in disarray, and his was billfold untouched. David's sister, Judy, says, "It's as if he just vanished."
Authorities and family alike suspect the worst: that foul play must have been involved.